As you will know if you've read Snug in Iceland, Rachel ventures into the local knitting shop and decides to knit a hat to while away the dark evenings.
Knitting and Iceland
One of the things I love most about Iceland is the fact that you can buy knitting wool everywhere. On Laugavegur, the street where Snug is in Reykjavik, there are at least three shops that sell the Icelandic Lopi wool and only one of those is an actual wool shop! I went to the wool shop where Rachel sees the hat like Jonas's and bought enough yarn to knit a jumper and at the time it cost me about £15, which for a pure wool sweater is amazingly cheap. It's not the softest yarn but it is warm and that is the top priority in a country where it is cold for at least nine months of the year.
Knitting is a fantastic way to relax and I knew that if I was in Rachel's situation, on her own in a new place with a lot of responsibility on her shoulders, I would want my knitting!
Photos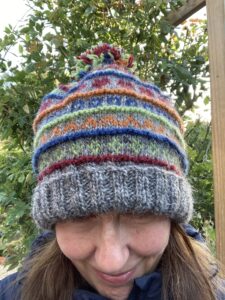 Download